R&D Graduate (f/m/d) - Packaging Sustainability - Hygiene
Job Advert
Want a role with real-world impact? As an R&D Graduate (f/m/d) - Packaging Sustainability - Hygiene at Reckitt, you'll have the freedom to help develop products that touch millions of lives. Worldwide. 
R&D Graduate (f/m/d) - Packaging Sustainability - Hygiene
Heidelberg, Baden-Wuerttemberg
Competitive Salary & excellent benefits package
This contract is limited to 18 months.
As a Graduate (m/w/d) in the Packaging Innovation team for our Hygiene portfolio, you'll support the development of new, recycled - more sustainable products. You'll take customer insights and work with experts from different teams to lead research and development projects.
You'll be responsible for…
…Supporting the launch of new and back-up grades of post-consumer recycled (PCR) resins in collaboration with supply/ regional packaging teams; according to strict quality and safety criteria, maintaining aesthetics and competitive price models that meet marketing expectations.
…Managing cross-functional projects to successfully launch new products and supervise trials (mobility to travel).
…Scientifical support and documentation by internal and external laboratories and institutes/ academia.    
… Formulating new guidelines, procedures and test/ validation methods for recycled resins.
… Establishing a solid partnership network in the field of waste sorting, collection and recycling.
… Strengthening internal capabilities in recycling processes.
You'll succeed because ...
… You have minimum a master's degree in Packaging development management or equivalent and - as a plus - have first practical experience (e.g. internships) in packaging development (ideally related to FMCG).
… You have the knowledge of the relevant regulations, directives, guidelines and standards relevant to polymer resins and plastic packaging.
… You have an understanding of vast differentiation in waste collection streams (household, industrial, etc), feedstock for recycled resins.
…You have the knowledge of circular economy with its all participants and their roles across the globe (collection, sorting, recycling, NGO's and associations etc.) especially in the field of defining local recyclability rules for plastics.
… You have the determination and perseverance in delivery for the uncharted territory of new project types, first time breakthrough launches and dealing with ambiguity of not having past project examples or pre-existed guidelines.  
... last but not least - you are proficient in English; German skills are an advantage.
You'll love it because ...
…you'll get to make an impact like never before. You will contribute to the future of plastics. You'll be responsible for your own projects - we can't wait to listen to your ideas. The products you help us get out there will make people's lives better. Our iconic brands will provide an incredible platform for you. And our dynamic, ownership-driven culture will help bring the very best out of you, every day.
Equality
In Return Reckitt offer very competitive salaries with excellent benefits and the chance to progress your career within a truly global organisation.
Reckitt is an equal opportunity employer and all qualified applicants will receive consideration for employment without regard to race, colour, religion, sex, national origin, disability status, protected veteran status, or any other basis protected by appropriate law. All hiring decisions are made based on merit, competence and business need.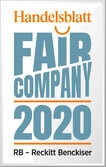 Apply now »