Reward Manager (m/w/d), Health
Our brands move markets. Behind the brands are strong personalities with a clear goal: to make access to the highest quality hygiene, wellness and nourishment a right and not a privilege. Now we are looking for support. Ready for the most exciting career of your life?
Reward Manager (m/w/d), Health
Heidelberg, Baden-Wuerttemberg
As Reward Manager (m/w/d), Health at RB, you will...
cecome a specialist partner to the business on reward related topics including managing relations with different stakeholders

provide the most effective and pragmatic Reward guidance and advice. Provide effective internal consultancy support to line managers/leadership teams and local HR Directors/HR teams and ensure their adherence to policy guidelines and governance requirements

provide specialist compensation support to execute RB's compensation programs and policy.

lead and execute the compensation programs, including annual review and bonus, salary banding in the HR system, external benchmarking specific to market, incentive and reward payments. Ensure pay decisions are consistent, equitable and fair.

lead the implementation and execution of the global or regional reward policies and ensure this meets local law requirements and proper approvals are in place

key ownership of SMT population tracking, ensuring the data held is up-to- date

maintain effective external value added analysis on the RBs competitive position to the market for compensation and benefits positioning. Ensure intelligent interpretation and recommendations are applied to market data, which will follow the latest market trends.

provide expertise regarding share plans on the various long-term executive, and all employee, share programs as required. Support the development, implementation and maintenance of these programs, and liaise with Company Secretariat and others to ensure effective governance and reporting

manage third party providers as required e.g. tax advisor, relocation advisor, benefits administrators etc. Implement and review contractual terms and service level agreements to ensure they best meet RB needs. Manage any related budgeting and cross charge processes

be responsible for and involvement in Works Council collective agreements in the location.
You will love it, because ...
... our products and brands are a unique platform for mutual success: with our new sustainability strategy we offer substantial long-term added value.

... working in partnership is our motto: flat hierarchies, open doors and our "#Freedomtosucceed" mentality create the right atmosphere.

... You will love Heidelberg: our modern office and numerous attractive benefits, such as flexible working hours and share savings plans are waiting for you.
You will be successful, because ...
... you bring compensation and benefits experience with an international focus; ideally previous generalist HR experience; around 5 years of job experience in total. Ideally, in an FMCG environment.

... are fluent in both English and German

... you have strong numerical and analytical skills, are proficient user of Excel, PowerPoint and Word

... you bring the ability to prioritise and manage multiple responsibilities and projects

... you combine strong communication skills with business focused and business acumen
You love our brands and are looking for the most exciting career of your life? Then apply online now via www.rb.com/karriere.
Welcome to the team!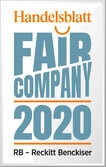 Job Segment: Medical, Healthcare
Apply now »